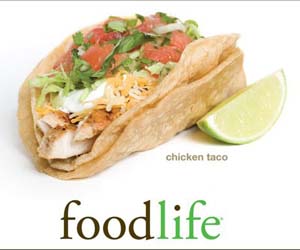 Name
: Foodlife
Cuisine Type
: American, Eclectic
Address
: 835 N. Michigan Ave, Chicago, IL 60611
Phone
: 312.335.3663
Web Site
: http://www.foodlifechicago.com/
Hours of Operation
: Monday to Thursday 11.30am to 8pm
Friday and Saturday 11.30 am to 8.30pm
Sunday 11.30am to 7pm
Reservations
: Reservations not accepted
Payment Methods
: Visa, Mastercard, American Express, Diners Club, Discover
Best Known For
– Texas BBQ brisket, pot roast, jambalaya
Cost / Price
– $8 to $15
Foodlife Restaurant Review:
Foodlife is an extension of a standard food court comprising of 14 kiosks that offer an eclectic mix of various specialties on the mezzanine of Water Tower Place mall.
Foodlife restaurant in Chicago offers almost everything ranging from typical comfort food to exotic delights. There 14 different kitchens that prepare all kinds of tasty morsels. The rotisserie section includes spit roasted chicken which is served with two sides and a muffin and meal of 3 sides that offers choice of 3 dishes and a muffin. The other category is hickory smoked BBQ which offers pulled pork sandwich, Texas BBQ brisket, BBQ ribs special and giant baked potato.
For those who relish stir fry dishes can choose an assortment of vegetables along with a choice of either tofu, tenderloin, chicken and shrimp, select your cooking style and enjoy it with Thai BBQ sauce, vegan mushroom broth, Kung Pao sauce or Teriyaki sauce.
Comfort food is a favorite with most and Foodlife restaurant in Chicago offers fried chicken and specials such as buffalo wings, meat loaf, pot roast, jambalaya, stuffed peppers fried chicken, turkey dinner, prime rib and chicken pot pie. These can be enjoyed with a side dish of your choice such as mashed potatoes, oven roasted potatoes, peas and carrots, macaroni and cheese or sweet potatoes.
For those who are conscious about calories can choose to create their own salad from over 30 toppings. The options available are a choice of regular or large greens to which you can add grilled chicken breast, applewood smoked turkey, fresh tofu or white albacore tuna salad. You can always teem it up with sushi or soup dish. Under maki sushi, you can choose between roasted vegetables, California, spicy tuna, Philadelphia and Acapulco.
At Foodlife restaurant, soup section includes New England clam chowder, turkey chili, vegetarian chili, fully loaded baked potato, tomato basil bisque, broccoli cheddar, beef and pot-roasted vegetables. There's even pizza and pastas where pizza is served by the slice and the options include personal pan pizza cheese and personal pan pizza stuffed.
The grill section at Foodlife restaurant includes Chicago style hot dog, hamburger and cheeseburger. To accompany your meal you can order orange juice, smoothies and shakes and a choice of delectable desserts. Overall The Foodlife restaurant in Chicago is a good place for all kinds of food lovers.
Chicago Restaurants Gift Certificate Guide: