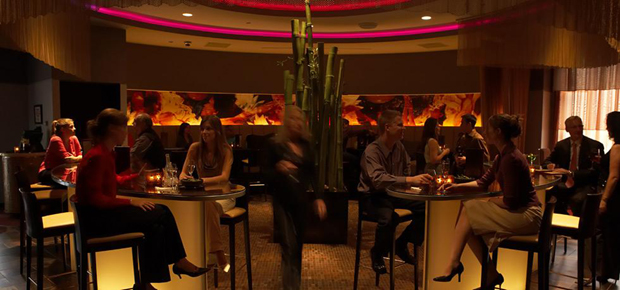 Celebrate Valentine's Day 2014 at the Fairmont Chicago, Millennium Park. Hotel is located at 200 North Columbus drive in downtown Chicago. Valentine's Day package includes four-course dinner at aria restaurant featuring great menu prepared by executive chef.
This Valentine's Day package at Fairmont Chicago cost you $75 per person plus tax and some service charges. If you are planning to treat your beloved person with romantic night out then consider to check out discounted romantic hotel package starting at $293 per room per night.
Couple can take advantage of ice skating at Millennium Park to spice up day with little romance on Valentine's Day in Chicago. If you are not into ice skating then you might want to spend a day exploring the park in the snow or shopping on Mag Mile like a celebrity.
The Valentine's Day Menu:
The Valentine's Day menu begins with a choice of oysters two ways with cucumber yuzu broken gelée, Rockefeller champagne sabayon or crab armagnac bisque with five-year-old Gouda cheese and crab dumplings, followed by a duck confit salad with treviso, mache, arugula, apple and crispy lentils vinaigrette, or beef tartar with sunny side quail egg and house-made jardinière. The intermezzo course includes champagne and rose water sorbet. Entrée options include herb crusted beef filet with brown butter and black garlic mashed potatoes, rainbow swiss chard and maple whiskey roasted parsnip in a double-smoked bacon sherry vinaigrette, or black cod truffle scallop mousse with saffron fregola risotto and Thumbelina carrots in a Riesling butter sauce. The sumptuous dessert is dark chocolate chili pepper mousse with caramelized cocoa nibs, fudge brownie, salted caramel, and mango buttermilk ice cream.
Fairmont Romantic Escape Package Detail:
The Romantic Escape Package includes a hotel room for $293 per night. You get luxurious hotel room at Fairmont downtown Chicago hotel plus get complimentary breakfast in Aria restaurant and overnight valet parking. Also, couple get late check-out of 5:00 pm, yup more time for couple. This package also features a Kama Sutra weekender kit that includes sweet almond massage oil and other little luxuries to spice up your day.
The Romantic Escape in the Heart of the City Package is based on availability with daily bookings. Considering all good stuff, it is more likely that available package might sold out quickly. If this package fits your interest and budget then I recommend you to book the romantic escape in the heart of the City package immediately at this Chicago downtown hotel to secure romantic getaway for Valentine's Day 2014.
About Fairmont Chicago:
Fairmont Chicago, Millennium Park hotel is one of the best luxurious hotels in downtown Chicago. Hotel is well known for the modern contemporary elegant look and extra ordinary service. This AAA Four-Diamond hotel has been recognized on Conde Nast Traveler's Gold List for the excellent service and amenities. It is also recognized as one of the top 500 hotels in the world in Travel & Leisure Magazine. Not only you get great service and amenities but also breathtaking views of the Chicago city skyline from guest rooms at Fairmont Chicago, Millennium Park hotel. I couldn't agree anymore, it is indeed one of the Chicago luxury hotels.